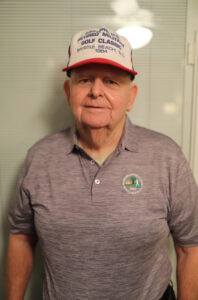 By: Chris King
Reginald Asby isn't going to win the 40th annual National Retired Military Golf Classic, but by at
least one metric, he is the most prolific player in tournament history.
The now 89-year-old Asby, you see, has played in every NRMGC. His best finish is 13th and
when asked to describe his game said, "I'm a lousy golfer; I always have been."
But quality of play has never impacted Asby's relationship with golf, which began in 1961 when
he was a member of the United States Army in Germany. Asby and four buddies didn't have
three sets of clubs between them, but they headed to a course in Hanover, launching a 62-year
love affair that continues to this day.
After 23 ½ years in the U.S. Army finance corps, Asby returned to his native North Carolina and
eventually saw a flier touting a new event for retired military members in Myrtle Beach.
He brought a buddy with him in 1984 and they kept coming back, returning annually to see old
friends and make new ones. Camaraderie, much more so than quality of play, kept bringing
Asby back.
"After 39 years, I've only run into two not very nice guys," he says. "It was fun every year."
Over time, many of Asby's original friends have passed away, but he continues to return. What
was once a chance to enjoy beers with buddies is now an excuse to spend a week with his
children and grandchildren.
"I play golf and they spend money," Asby says with a laugh about tournament week.
Blessed with great health, he still plays once a week and walks 18 holes (that is not a typo!).
As the 40th annual NRMGC approaches, there will be players working to sharpen their games
with hopes of winning, but Asby won't be one of them.
"The best round I ever shot was an 89, but I can shoot 106 10 different ways," he said.
The NRMGC and golf in general isn't always about score. The game provides a chance to
spend time with friends and family, to get a little exercise, and enjoy a pursuit that provides
maddening challenges and small victories in equal doses.
Just ask Reginald Asby, who will tee it up in the NRMGC for the 40th consecutive year and
"winning," defined strictly as finishing first, is the last thing on his mind.